The difference between 99% of artists who stay students forever and artists who exhibit their work is their approach, commitment as evidenced by their ability to build a body of work.

This six month master class has biweekly live sessions to guide you individually and review work with critiques by Kimberly Brooks and guest art professionals in a group setting.
The first month of the curriculum is about research, clearing your mental space and no paintings will be started. The meeting intervals allow ample time for you to begin and re-enter paintings according to a schedule, geared towards developing your personal expression to the fullest within a group of eighteen paintings. This program starts in February 2020.
Get notified for future classes.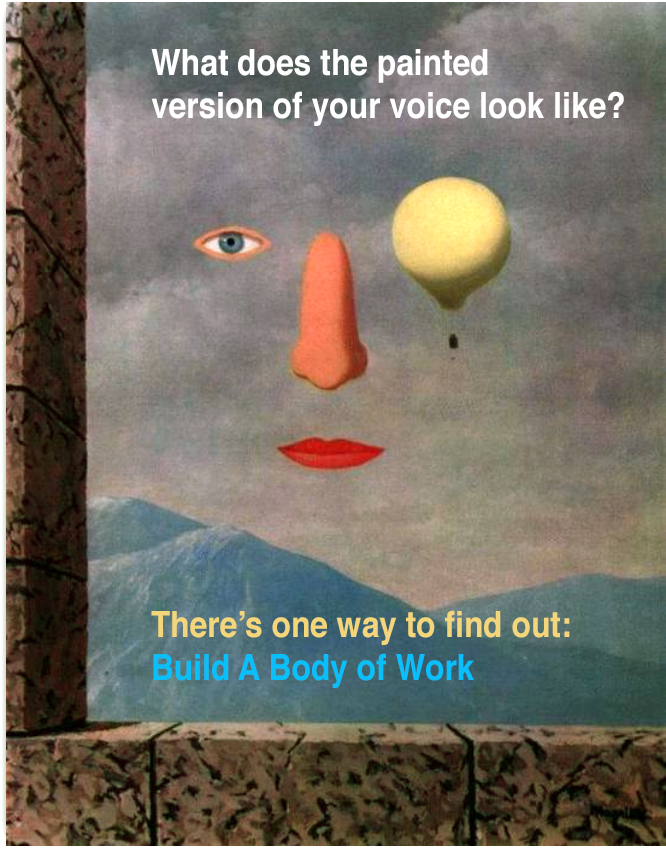 Your Instructor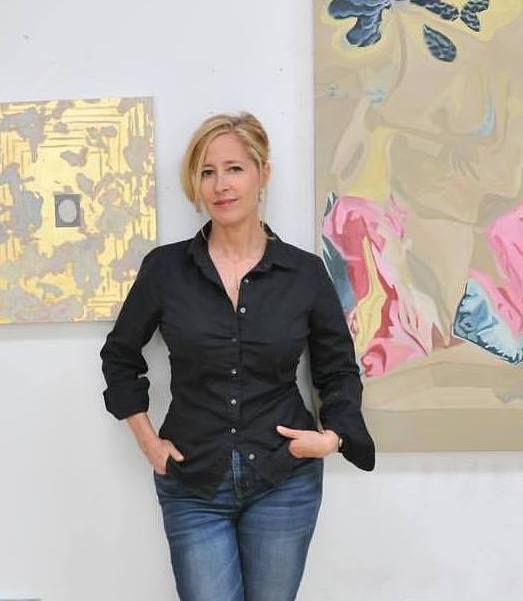 Kimberly Brooks is a Contemporary American Artist. Also an award-winning educator, she has worked with artists around the country to help take their practice to the next level. She is the author of the upcoming Oil Painting Safe Practices Materials & Supplies: The Essential Guide, a culmination of over twenty-five years of experience in oil painting. She has a passion for mentoring younger painters, help transform their practice to solvent free, in addition to guiding them towards building a body work. She exhibits internationally. www.kimberlybrooks.com
Frequently Asked Questions
When does the course start and finish?
The course starts in late January and lasts for six months. We meet twice monthly and there will be assignments, critiques with professional along the way.
How long do I have access to the course?
The course is primarily live sessions which you will have access to the recordings after the course is over for the remainder of the year.
What if I am unhappy with the course?
We would never want you to be unhappy! If you are unsatisfied with your purchase, contact us in the first 30 days and we will give you a full refund.
What kind of students will also be in this shared experience
The class has students from around the world, all serious artists who are either starting their first body of work or seasoned artists who want access to the disciplined methodology as well as feedback from professionals about how to develop their visions, artist statements around their work and how to keep their work from deviating from a central theme or visual narrative.
What if I have not taken the previous Oil Painting Fluency and Flow Class
While graduates of Oil Painting Fluency & Flow have an automatic acceptance into the program, artists working in the media of painting can apply by filling out the application. Space is limited.
JOIN A COMMUNITY OF ARTISTS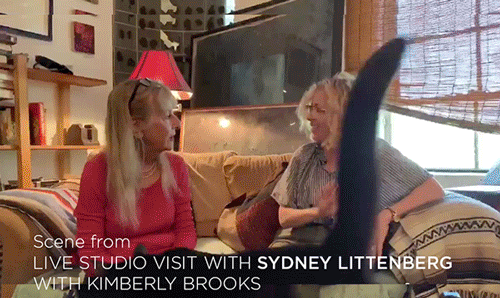 if you're interested in taking your art to the next level and want to work with a group of dedicated artists with the same goal from around the world, this class could be just right for you.
If you would like to know more you can set up a call with me.
I look forward to hearing from you!
Best,
Kimberly
* * *
ENROLL BUTTON BELOW FOR ALREADY ACCEPTED ARTISTS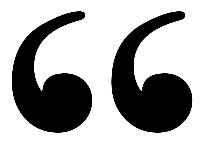 I've been painting in oils for 20 years; have an MFA in painting; and am a professor teaching various 2D media–including oil painting. I was taught oil painting in undergraduate and graduate school.
Most of my oil painting education comes through personal experience with oils, oil-based mediums, and related media such as One Shot Enamels. I sought out the program by Kimberly Brooks because it's the first time I've encountered anyone teaching oil painting in a virtually toxin-free way.
As a teacher/mentor, Kimberly is warm, hilarious, incisive, inclusive, and enthusiastic about her material, painting, art history, and the contemporary art world. She has influenced me to reclaim my fearlessness. Learning about the history of paint in immense detail was riveting and eye opening.

Amy S., Michigan
As a mixed media artist I am more familiar with drawing materials and a beginner in the medium of oil paint.
Kimberly's unique online course has been more impactful to me than any class I've taken in person. She makes you feel like you are right at the heart of the art world, in dialogue with both contemporary painters and the ever present old masters. Although her course is rich with technical insights, Kimberly doesn't deliver this information in isolation of artistic and compositional considerations. Refreshingly she merges both dynamics with the engaging imagery of a storyteller.
It was easy to forget that Kimberly was practically on the opposite side of the world from me. She has a warm personality and makes you feel that you've been talking about art together for years. She is filled with an energy and enthusiasm for creativity that is as infectious as her enquiring mind. You'll also be delighted by her sense of humour and with.

Alison B., Sydney, Australia
Kimberly's insights into creative approaches make you feel as if you will never run out of ideas to explore. She has shared very practical ways of setting yourself up for success and allowing you to make the most of your creative time.

Josie C., Los Angeles
I have been painting for 20 years and have taught painting at the university level for 11 years. In this program, Kimberly gave an overview of every aspect of the creative process and introduced the materials and practice of painting in a way that has forever changed my approach. Kimberly's course is accessible for beginners and also challenging for advanced painters. She is a very generous instructor who is invested in her students' success and I would highly recommend this course.
My studio is now set up in a way where I have all kinds of options and materials to work with; there is no pressure to execute one perfect painting at a time and I feel much more free to create and explore. Kimberly is an expert who is dedicated to the creative pursuit and when presenting information she does so in a way that is easy to understand and motivates the student to learn more about the topic through experimentation and practice. It also helps that she has a sneaky and excellent sense of humor.

Jerrin W., Utah
This course was a treasure trove of revelations for me. I was most amazed, however that I had never come across Kimberly's important safety practices in working with oil. Solvents and oil paint don't go hand in hand, and I can paint safely in my small studio space without dangerous fumes. There is a plethora of bad information lurking on the internet and I'm so glad to have met Kimberly who has shed light on this lost, traditional knowledge.

Anita L., Bali
Taking an intensive oil painting class from Kimberly Brooks radically changed my art practice. Not only did I gain an incredible respect for the act of oil painting, I also developed an intense interest to push myself beyond my limits of knowledge and to embrace all the unique techniques that make oil painting so captivating. Kimberly Brooks has a deep well of oil painting knowledge that she freely shared with me, and our group. With great enthusiasm Brooks encouraged each of us to keep experimenting and paying attention to our results so that we could gain ownership of our preferences, styles and abilities. Each day I grew in confidence and looked for moments of revelation to become part of my advancement in oil painting. Behind humor and spontaneous disciplinary comments, Brooks delivered outstanding tidbits of wisdom that I am forever grateful. I know for certain, that as I progress in my oil painting art practice, I will often be reminded of her gregarious smile, animated comments, vampire stories, and genuine generosity to share her artistic intelligence. Kimberly Brooks impact on my art life is indelible.
Gail M., Chicago

Throughout the course I have regained my desire to grow as a painter. You unlocked some sort of creative block that I wasn't even aware I had. I would paint but with little regularity, consistency and often times when I would paint it would not be for myself. I was hesitant to touch the canvas because I was allowing myself to be completely overtaken with fear the how I was going to approach the painting. In no way was I asking myself the right questions, like what kind of color palette would I use or how would I compose my images to make them appear as part of a series. After the first couple of paintings you gave me the language to find how I wanted to express myself through painting and reinvigorated my love for it. Now, with my creative block gone, it feels as if paintings are dripping from my fingertips with such a sense of urgency that I can barely keep up!

Brittany W., Santa Monica
Kimberly brooks has inspired me and guided me to where I feel confident as a painter. She is positive, informative and really cares that people improve in her classes. Best art teacher I have ever had.
Anthony H., Los Angeles
Kimberly is a passionate ambassador of art. Full of energy, connects with each and every student, a treasure trove of tips and techniques. She helped me understand just what goes into an oil painting…and the infinite possibilities for where that painting can go. Her critiques are frank, honest and compassionate. I often recommend her class to other beginning and intermediate painters.
Karen C., Los Angeles

Kimberly brooks has inspired me and guided me to where I feel confident as a painter. She is positive, informative and really cares that people improve in her classes. Best art teacher I have ever had.
Karim H., Los Angeles

Kimberly Brooks is both an incredible painter and painting instructor. During each class, I thoroughly enjoy her perspective, stories about her own past, and enthusiastic love of the craft.
She is so generous with her knowledge about the materials. She is able to breakdown the palettes from our favorite historical painters and easily connect the dots to create our own masterpieces.
I also really appreciate her knowledge of other contemporary artists, and the art industry at large. Through her live-streamed studio visits and own experiences, she shares insight on how to stand out in a crowded field. I feel like my knowledge about the contemporary art scene went from 0-60 throughout the course.
What I found most important was her information on safe practices and encouragement to remove toxins from oil painting. Like her, I often felt very sick after painting which made me give it up many times. By following her instructions and recommendations, I no longer use any toxic solvents and I can now spend the time needed to find my flow.
Taking her course is not just a flash-in-the-pan experience. It is joining a network of other artists both locally and globally. It makes you look at your work objectively while having the encouragement of a coach on your sidelines.

Abbey G., Los Angeles